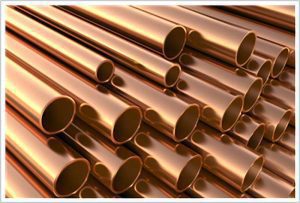 Don't know a Schedule 40 PVC pipe from a Schedule 80 PVC pipe? Or maybe you need to brush up on the different uses for flexible copper pipes as opposed to rigid copper piping. If wall thickness, inside diameter and outside diameter and the plethora of abbreviations used in the industry are all confusing to you, well, you've come to the right place. Whether you are researching for a home improvement or expansion project, or you need to conduct repairs for drain lines or other broken pipes, here is a glossary of various types of piping as a handy guide.
Piping Terms to Know
Copper Pipe: Used for water supply systems, this is more durable than plastic piping, and it even fights corrosion. Copper pipes are either flexible or rigid.
Flange: a ring, rib, rim or edge that is a projection. There are many types of flanges, such as blind flanges, companion flanges, lap joint flange, reducing flange, slip-on flange, socket weld flange, threaded flange or a welding-neck flange. All of these are designed to join the pieces of pipe or sections of pipe, pipe joints, and more.
Flexible Copper Pipes: are generally used for appliances such as dishwashers, feeding water through a more supple form of copper. As it is pliable, it can get warped. To fix this, you have to cut out the twisted portion and put in a new piece through soldering or compression fittings.
Galvanized Steel Pipe: You can find this piping in older houses, for water supply and branch drain lines. While these pipes are tough, you can't expect them to last longer than 50 years.
Fittings: Tee – a T-shaped adapter to add a branch to the line, Reducer is a fitting type to reduce the pipe diameter
Gaskets: material used to seal the joining of two pipes
PVC Pipe: PVC (polyvinyl chloride) pipes look white or off-white, appear unaffected by chemicals, and practically never ever wear down. That would be why it's the most common type of pipe utilized to make drain lines.

Schedule 40: Usually speaking, this strength of PVC piping can hold up for residential plumbing. Double check with an inspector though.
Schedule 80: This pipe can make up the supply line for cold water, but it is prohibited in some places, as this pipe can't really handle hot water.

Rigid Copper Pipes: As the name conveys, these types of pipes do not get so easily bent. To cut out a portion of rigid copper, it takes a hacksaw, wheel cutter, or tube cutter. You can find these pipes in three different thicknesses:

Type M: the thinnest version of rigid copper pipes, this can still handle most plumbing around your house.
Type K & Type L: these are the pipes of choice for outdoor plumbing.

Abbreviations: There are MANY abbreviations you'll find in the industry, here are a few you may encounter:

ASME – American Society of Mechanical Engineers
AMS – Aerospace Materials Specification
ASM – American Society for Metals
ASTM – American Society for Testing and Materials
ANSI – American National Standards Institute
IPS – Iron Pipe Size
API – American Petroleum Institute
AWWA – American Water Works Association
DWV – Drain, Waste and Vent
ERW – Electric-Resistance-Welded
CW – Continuous Weld
CBW – Continuous Butterweld
NPS – Nominal Pipe Size (NPS can range from NPS 1/8th to NPS 26)
NPT – National Pipe Thread
SCH – Schedule (of pipe) which is the wall thickness of the pipe
WYE – a y-shaped fitting that has 3 openings on it to create branch lines
FPT – Female Pipe Threads
MSS – Manufacturer's Standardization Society
BBE – Beveled Both Ends – this is prep for piping fittings
MAWP – Maximum Allowable Working Pressure – what water pressure a piping system can withstand

Metal types: Cast iron, stainless steel, carbon steel, copper, aluminum
Types of valves: Ball valve, gate valve, control valve, shutoff valve
Bushing: connects male pipe threads to a larger diameter female pipe end
Condensate: water that results from steam cooling
Pipe hangers: support for a pipe or groups of pipes to be suspended from a structural element such as ceiling, slab, wood beam or other
Butt Weld: a weld between 2 beveled pipe ends
Ductile: how flexible a certain pipe material may be (different percentages of flexibility may be called for in different applications, or if there are high temperatures, high pressures, the length of pipe, and more)
Solvent: Can be liquid to dissolve glues, epoxy or other materials
Square Inch: the measurement equal to 1" tall by 1" wide
Metric: System of measurement used next to the standard measurements
Instrumentation: such as profilometer (used to measure surface finish) or a spectrograph (used to determine the concentration of metals or other materials)
Leaking pipe? Emergency services cost nothing extra with our Kansas City plumbers!
Whether you need a little help to tackle a home improvement project, or you need to conduct some serious repairs of your home's plumbing, you can find the expert help you need at A-1 Sewer & Septic Service Inc. Our team is ready to help even after business hours, and that includes the weekend. Whatever the emergency, we can provide a fast response at no additional cost. And even if you face a seemingly small problem, no project is too small or too great for us to take on. Call a Kansas City plumber for a quote today!