Sewer Line Repair in Kansas City
No Job is too big or too small

$15 Off Sewer Pipe TV Inspection
Coupon is only good for an owner occupied property, paid at the time of service. Not valid with any other offer or promotion. Value of the coupon will not be refunded or credited once the service tech has left the job site. Maximum value $50.
If you are experiencing reoccurring drainage problems, consider having a video pipe inspection performed to determine the cause and location of the problem area(s). This video is necessary to provide an accurate diagnosis so repair options can be considered. A-1 Sewer & Septic Service will explain the difference between a spot repair, a trenchless repair, or a complete line replacement. Let us help you determine the best choice for your property!
What Is Trenchless Sewer Line Repair?
Over time, the pipes carrying your water and waste to and from your home break down or get blocked either by natural or unnatural objects. And most of the time, service providers will want to dig up your entire yard to be able to find the blockage and repair or replace the whole line. A-1 Sewer & Septic Service offers a new and better service for your yard and your pipes. You and your family will rest easy knowing that you will have your yard back in no time. Get back to your outdoor activities like backyard parties or break out the kiddie pool quickly with trenchless sewer line repair.
This new and modern process is the better alternative to getting your lines serviced without having to excavate your entire front or backyard. You will be helping the environment as well by using this new technique. Trenchless sewer line repairs and replacement don't require our team to disturb your gardens or lawn. Thus, ensuring the hard work you've put in to make your outside landscaping look beautiful stays that way. A-1 Sewer and Septic Service Inc. uses trenchless pipelining to repair your old, worn pipes for better and cleaner service that accommodate your plumbing or pool needs. For more information, check out our page on the entire pipelining process and find out if A-1 Sewer & Septic Service can utilize this non-groundbreaking technique for your home or business.
What Causes Sewer Line Problems?
There are many different reasons your pipes could be damaged, with age being one of the top reasons people need to have their lines repaired or replaced. We've been in business for over 40 years and have seen it all. Our technicians repair pipes with skill and efficiency. Our trenchless sewer line repairs are quickly becoming all of the rage since we won't need to disturb your lawn to fix them adequately. Here are some of the other things to worry about concerning your sewer pipes:
Tree Roots: Tree roots are continuously searching for water sources, even if that source is a nearby sewer line. As roots grow, they may break through your sewer pipe walls and connections, which cause significant issues if left unaddressed. While doing a spot repair is one of the easiest solutions to tree root pipe infiltration, regularly scheduled preventative drain cleaning may prolong the life of your sewer. It is essential to consult with one of our experienced plumbers to determine if it is time for a repair or replacement.
Damaged Pipes: Old styles of pipes used materials like cast iron and clay that eventually break down over time. Depending on the amount and contents headed trough these pipes, they can harm the inside of the pipe, creating cracks or scale. We now use more durable materials like plastic and epoxy in our pipelining process to help them last much longer. This means that you won't have to worry about services nearly as much.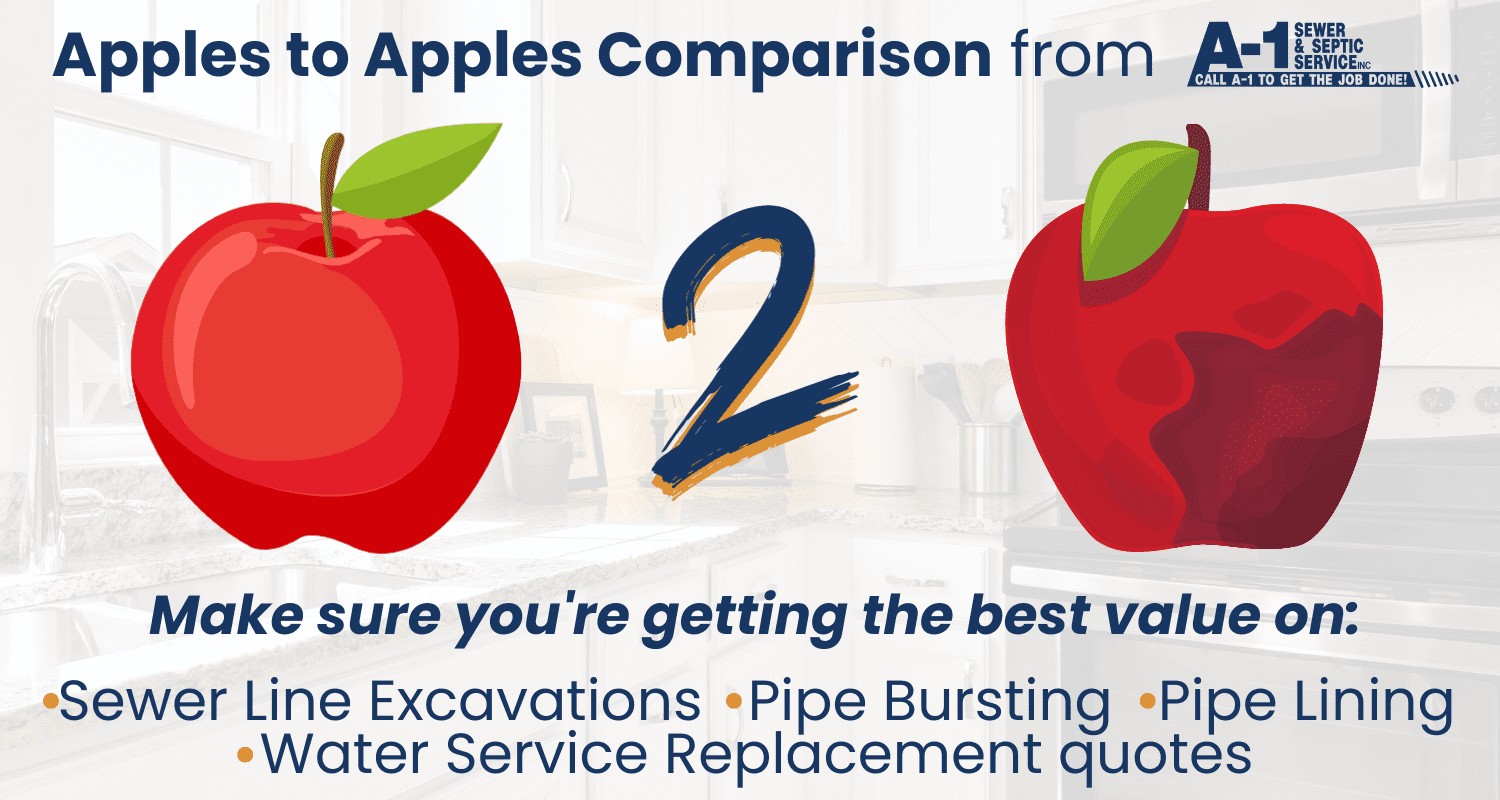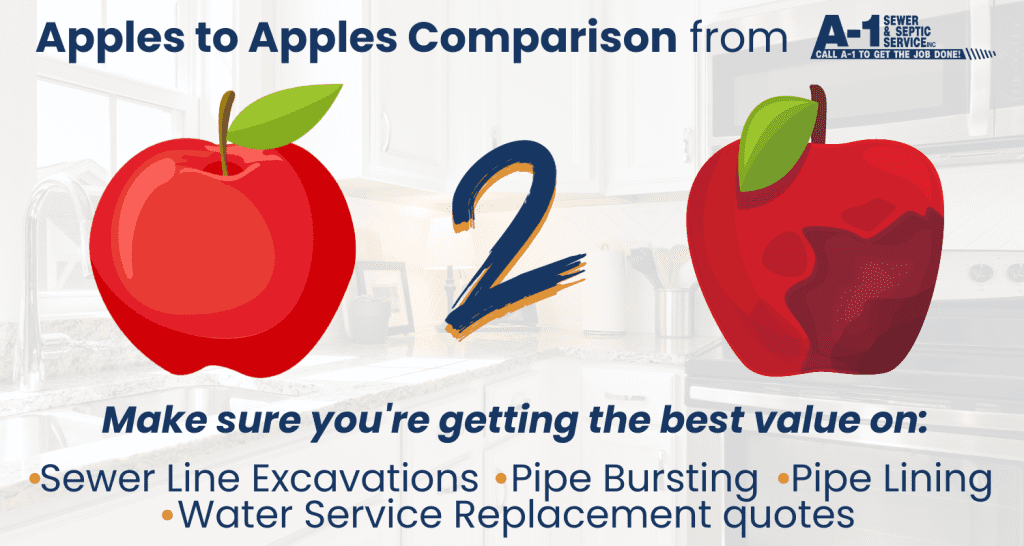 Apples to Apples Comparison from A-1 Sewer: A SECOND OPINION on Sewer and Water Line Repairs.
Make sure you're getting the best value.
Requirements/Exclusions
Must provide a written quote from another company (

Price can be removed

)

Applicable to sewer line excavations, pipe bursting, pipe lining, and water service replacement quotes

Not applicable to Real Estate Transactions