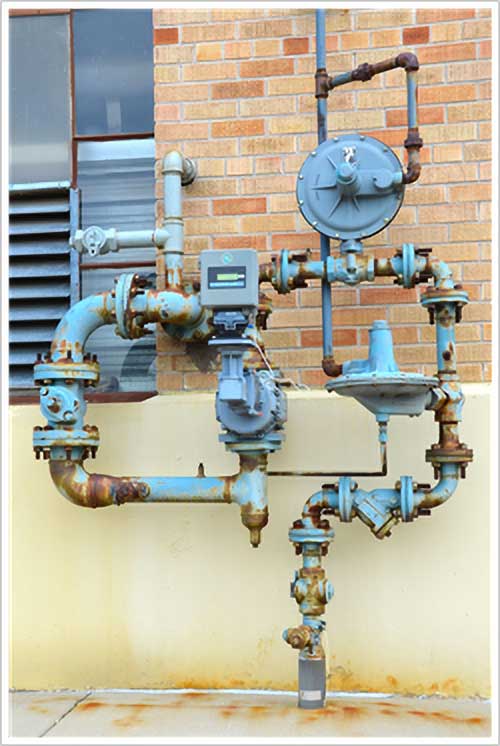 It only takes a scratch or tear from corrosion or an accident, to create high pressure in a gas line, and this can cause natural gas leak; allowing the gas pressure of the natural gas, or other gases, to start seeping through the natural gas lines, causing a gas leak. Such a gas leak poses a serious safety hazard, one that requires swift attention by expert professionals, normally a plumber, to perform a gas line repair. You may smell rotten eggs, which is due to the additive in the natural gas, which is there to alert those around it of a possible gas line leak. Whether the leak is from your water heater, gas piping or gas valve, or other gas appliances, you may hear a hissing sound or smell gas.
.
It is in your best interests to immediately contact the gas company, and then a qualified plumber, for both safety and peace of mind. If you are a property owner looking at a leaking gas line with a large leak, you may need to evacuate the premises and call the gas company for emergency services at once. If the gas leak is small, and you are a very proficient DIY'er, however, you might be able to repair the leak before you take any further steps. You will need the following tools on hand:
.
Gas mask

Wrenches

Acetone

Fiberglass outer wrap

Epoxy

Rubber Tape

Protective gloves

Sandpaper
.
Steps For a Successful Gas Line Repair:
We want to make it clear that when it comes to repairing a gas leak, or taking on a new gas line installation, that the majority of homeowners should absolutely contact a professional plumber or plumbing services to come out and perform this repair service. This cannot be stated strongly enough – there can be deadly consequences if this repair service or gas line installation is not performed with precision and by an experienced professional plumber.
If you feel that you have the home improvement experience necessary to safely perform this repair, here are the steps you'll need to follow.
.
Before you do anything else, turn off the gas. 

Put on your gas mask and gloves. This is a risky repair job.

There will be plastic covers encasing the

gas lines

, and these need to come off so you can get to the

gas line

itself. 

You will need to disconnect the low-pressure

gas line

from the gas regulator.

Then you will need your wrenches to take out the high-pressure line. 

Clean out the high-pressure line with acetone, and this could take care of the risk for leaks in the future. Use sandpaper on the line's surface, as well as the surface of the

gas pipe

, then use acetone on these again.

Then you can loosely reconnect the

gas line

. Apply rubber tape over the site of the leak. Check the angle of the line, and check that the high-pressure line is not causing trouble for the low-pressure

gas line

. 

Next, consult the instructions on the epoxy package for how to apply it to the

gas line

. Ideally, you would let this cure over the course of a night.

Only when this has cured, can you secure the fittings on the high-pressure

gas line

. 

Then you can reconnect the low-pressure line. 

You can turn the gas back on to ensure that there are no longer any leaks. 
.
If there is a different leak, then now you will know what to do. Once everything checks out, you can put the covers back in place.
.
A Job That Calls For Expert Help
If you encounter further issues, you may require emergency service from an expert plumbing technician who can perform the pipe repair you need. Contact A-1 Sewer & Septic Services today to have a Kansas City plumber provide quick and efficient service. We offer  emergency services, even on the weekend or in the evening. Whether you are installing a new appliance, HVAC systems that need a new gas line or you want new propane lines run, do not hesitate to call us today!