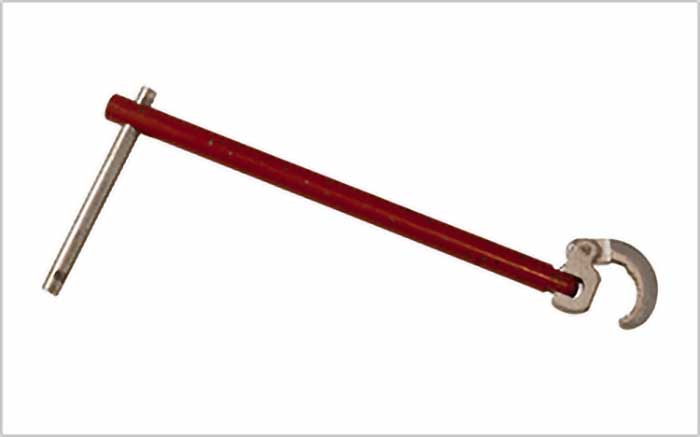 This post will give us an outline of the various uses for a basin wrench, and how this incredible tool can help any DIY homeowner or home improvement advocate and professionals alike, to get into tight spaces and get a grip on the sink nuts that are hard to get to, especially with the long handle and spring-loaded jaw that allows for a ratcheting type action, that you find on a standard basin wrench plumbing tool.
A Handy Tool For Your Faucets 
The basin wrench is an essential part of your toolkit if you want to remove, install, or tighten a bathroom sink faucet or kitchen faucet, and it can help you with water supply lines connected to the faucet as well. One of the greatest advantages of the basin wrench is how it can reach places that other implements cannot. It's very easy on the budget too.
They easily adapt to most nut sizes, and make an excellent addition to the other tools in your toolkit (such as pliers, screwdrivers, sink wrench, spanner, faucet wrench, swivel headed wrenches, pipe wrenches and more)
Here is how a basin wrench can help you install or remove a faucet:
Turn the claw until it is at a 90-degree angle.

Clamp the claw onto the mounting nut beneath your faucet.

Twist the claw by turning the perpendicular t-bar (or t-handle) (go clockwise to tighten the mounting nut; turn counter-clockwise to loosen and remove the mounting nut).

In some instances, you can also use an adjustable wrench to help provide additional leverage, as well as using a small piece of sandpaper around the stubborn nut, in between the basin wrench's spring-loaded jaw and the nut itself, to provide additional friction to help loosen the nut.
A Couple of Helpful Tips
If you have the right tools, certain plumbing jobs really can be that easy. If you encounter trouble even with the trusty basin wrench, however, here is a brief guide to troubleshooting some common issues.
If the basin wrench head can't reach the mounting nut, you can get a telescopic basin wrench, which provides the long reach you need from the telescoping shaft.

If a mounting nut is barely budging, you can use a pipe or the back of a crescent wrench, or other tool with a claw head, to intensify the force you apply to the turning motion.

Don't forget there are multiple types of basin wrenches: adjustable basin wrench, fixed basin tap wrench, fixed basin wrench, and other variations.

Be careful when removing the faucet mounting nuts or faucet tailpieces, as the long shaft of the basin wrench makes for excellent leverage, even with one-hand. Plastic nuts can suffer from corrosion and age, and can easily break if you're not careful.

Penetrating oil can be used for stubborn nuts in the sink basin, however accessing them can be an issue at times (which is where the basin wrench head being reversible comes in handy!)
Need a Plumber? Call A-1 Sewer & Septic!
If replacing your kitchen sink faucet or bathroom sink faucet doesn't solve your plumbing problems, then you may need to call in an expert plumbing technician to help you diagnose and/or fix the issue. Whether you face a persistent leak in your bathroom faucet, issues with water pressure, or other problems with your home's plumbing, you can find the experienced help you need from the Kansas City plumbing team at A-1 Sewer & Septic Service, Inc.
No problem is too great or too small. Call our team today for a quote or submit your information to get started!