There are few things Kansas City homeowners dread hearing from their plumbing contractor more than that their sewer pipes need replacement in order to use the sewer system. Replacing your main sewer line is an expensive and time-consuming process with downtime, torn up driveways and yards, and more possible issues. If not addressed, you risk letting leaks and holes in the pipes grow as tree roots grow and bust through (also referred to as root intrusion), corrosion and blockages in the old pipe.
There are other options, however, for homeowners who have broken pipes, damaged pipes underground, and simply replacing entire runs of drain pipe – without having to excavate and dig up the pipe system to run a new cast iron main sewer line. These repair methods all generally fall under the category name of trenchless, or trenchless pipe lining/trenchless sewer repair.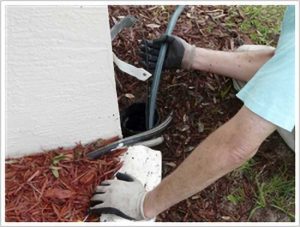 What Is Trenchless Pipe Lining?
The trenchless pipe lining process gives homeowners a cost-effective new pipe/pipe repair alternative that doesn't involve tearing up their yards, and lowers the downtime of the plumbing system.
This option is known by a few different names: CIPP (Cured In Place Pipe), pipe relining, trenchless pipe lining. Sewer pipe lining is able to replace various types of existing pipes, such as clay PVC, cast iron, and more, and is used for sewer lines and water lines, depending on the plumbing system.
Relining a pipe involves inserting a liner into a pipe that bonds to the pipe and covers holes in the pipe. The liner is as strong as, if not stronger than, the pipe it replaces.
To reline a pipe, A-1 Sewer & Septic Service, Inc. will perform a camera inspection and insert a camera into the pipe at an access point to assess the damage and to determine whether relining will work.
Once a liner is determined to be the suitable repair, A-1 will flush the pipe of buildup, clogs, and debris with a high-pressure jet of water via hydro-jetting, if necessary.
Next, a seamless, flexible liner is cut to size and treated with an environmentally safe epoxy resin. The liner is inserted into the pipe using compressed air. A-1 will then allow the resin to cure over a set period of time.
Unlike replacing pipes, which require plumbers to dig a huge trench in your yard, pipe relining requires only a small hole to gain access to the pipe to insert the liner. It's also much faster than pipe replacement.
Contact A-1 Sewer & Septic For All Your Sewer Pipe Relining Needs
Homeowners in the Kansas City area who think they may need pipe replacement should contact A-1 Sewer & Septic Service to determine whether pipe relining, or even pipe bursting is a viable option. A-1 Sewer & Septic Service is a well-established plumbing contractor providing a full range of services, including pipe relining. Contact us today for an estimate.