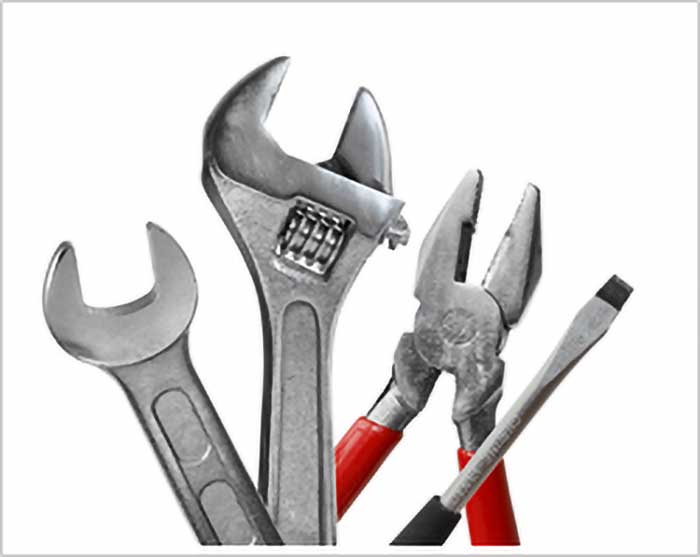 Even if you have the know-how to handle plumbing problems around your house, you're very limited in what you can do if you don't have the right tools available when you need them. While there may be no one-size-fits-all toolkit, there are some handy plumbing items you may want to have on hand. When you have the best plumbing tools, you should be able to take care of most issues before they become plumbing disasters, from clogs & blockages to leaking copper pipes and working in tight spaces. Homeowners know the importance of keeping their plumbing system free-flowing and quickly clearing clogs that happen to maintain a healthy house.
It's easier to understand how each tool is used when you have an idea of the purpose. This list of essential plumbing tools is broken down into pipe work, wrenches, drain cleaning, and different types of pipes.
Ideal Plumbing Tools for any Pipe Work:
Tubing Cutter/pipe cutter: This is a tool used by plumbers that cuts through plastic tubing.
Power tools and cordless tools: Many of the different tools that are used in plumbing can be manual or hand tools versus power tools, the latter of which makes life a LOT easier!
Hacksaw: For difficult cutting jobs, such as with pipes, bolts, nuts, and screws. You may want multiple hacksaw sizes and hacksaw models to ensure that you're ready for a variety of jobs.
Hole Saw Kit: Hole saws are great for creating perfect holes or even expanding holes that you need to thread piping or other plumbing needs through surfaces.
Pipe and tube benders:
Compression Sleeve Puller: Compression angle stops are often placed along the pipes that send water to toilets and faucets. This is probably the case if your tubing is copper, PEX, or CPVC. It can be tricky to take out these angle stops without harming your pipes because while it is simple enough to loosen the angle stop, the nut and sleeve still have to come out. With a compression sleeve puller, however, you can manage the job neatly.
Plumbers Torch: for soldering copper pipes (don't forget the heat shield to protect other fittings/materials while you're heating other things up! Often, this is where homeowners draw the line and call a professional plumber to assist)
Thread Sealing Tape/plumber's tape: for a variety of plastic pipes, PVC, or other materials, this is part of every plumbing tools list
Pliers/channel locks: having different sizes of these can be a life save when working in tight spaces or needing to reach something that's tucked down in somewhere. There are specialty pliers, such as water pump pliers, that are designed to make short work of certain jobs
Press Fitting Systems: Also known as an iron pipe size press fitting system; this allows plumbers to create watertight connections and seals when they press a connection onto a pipe.
Plumber's Putty: For caulking and sealing, especially along sinks and tubs, spigots, and sillcocks
Screwdrivers: These basic, invaluable tools can handle innumerable repair jobs, anything from tub spouts to faucet handles. Various sizes, including stubby screwdrivers and extended screwdrivers, can all make a difference in the tight spaces you might find yourself in while doing plumbing business
Flashlight: One of the most important and overlooked plumber tools, having adequate lighting for your plumbing project is one of those plumber needs you don't think of until you're sitting there in the near dark under the sink!
Metal file/burr remover: When cutting copper pipe, it is always advised to remove any metal burrs or other imperfections on the end of the cut before soldering together
Washers/flanges/nuts/bolts: Having a variety of sizes available can make any plumbing job that much easier
The many faces of a Plumbers Wrench:
Pipe Wrench: You still do need these, just not as much as you would have a couple of decades ago. Again, multiple sizes can be invaluable, and some fixes are two-wrench jobs. These wrenches still prove their worth when threaded items are involved, like an iron pipe, and they are handy for many water heater, yard hydrant, and pressure regulator jobs.
Adjustable Wrench: You need to find one that will not slip when you twist it. This versatile asset can be especially useful when it comes to taking out angle stops, certain supply lines, and compression nuts. Adjustable wrenches are also good for plumbing jobs such as installing or removing a shower head, without scratching surfaces.
Basin Wrench: This could also be known as a sink wrench. As the name suggests, it is a wonderful tool for replacing faucets, whether it is the sink for the laundry, kitchen, or bathroom. This wrench can get to even tough spots to tighten or loosen fittings. Ideally, you can find a wrench with a telescoping shank that will stay at a 90-degree angle.
Faucet Key: Although a faucet key isn't technically a wrench, it's still one of the best plumbing tools. The x-shaped tool is used to open and close spigots and sillcocks.
Allen Wrench Set: you will find that Allen screws are used to fasten a good deal of faucets and shower handles.
Top 5 Drain Cleaning Tools:
Plungers: Every homeowner should have a plunger in their home. These essential tools are the first line of offense when dealing with a clog. If this doesn't work first, then its time to move on to more powerful tools.
Hand Auger: This is a circular, handheld device that is a drain auger (also known as drain snake) that allows a plumber to drive a line down into a drain so they can break apart and clear any clog.
Snake Machine: This is an essential heavy-duty power tool version of the small drain snakes. These machines have the muscle and capability to clear deep or difficult clogs.
Drain Inspection Camera: Also known as a borescope, plumbers use inspection cameras to view drains and sewer lines on a camera to better look at the situation within the piping.
Hydro Jetting Machine: Professional plumbers use Hydro jetting machines to clear clogs from drains and sewer lines effectively. 
If you feel like you can handle a DIY plumbing project, it's also good to know the different kinds of piping professional plumbers encounter in different homes. Different types of piping require different tools that will perform better. The most common types of pipes used for residential plumbing include:
PVC piping: PVC is becoming the chosen piping for most plumbing tasks. PVC is a plastic alternative that replaces galvanized steel and cast-iron pipes.
PEX Pipe: PEX piping is a newer innovation within the plumbing world. PEX piping is a more resilient and flexible plastic piping that creates more sealed connections within a plumbing system.
Metal Pipes: Metal pipes include galvanized, steel, iron, and even copper pipes that are used as sewer pipes and water pipes. Metal was the standard for home plumbing systems several decades ago, but with new innovations in the plumbing industry, more plumbers are switching over to plastic pipes.
Our Kansas City Plumbers Provide Fast Response to Emergencies
Sometimes though, a plumbing emergency will require even more specialized equipment and tools. If you are faced with a disaster, do not hesitate to call a plumbing expert right away before matters get worse. Even on the weekend or in the evening, you can call A-1 Sewer & Septic Service, Inc. to get the service you deserve from a Kansas City plumber. Don't wait to get your quote today!